About STRATOFLY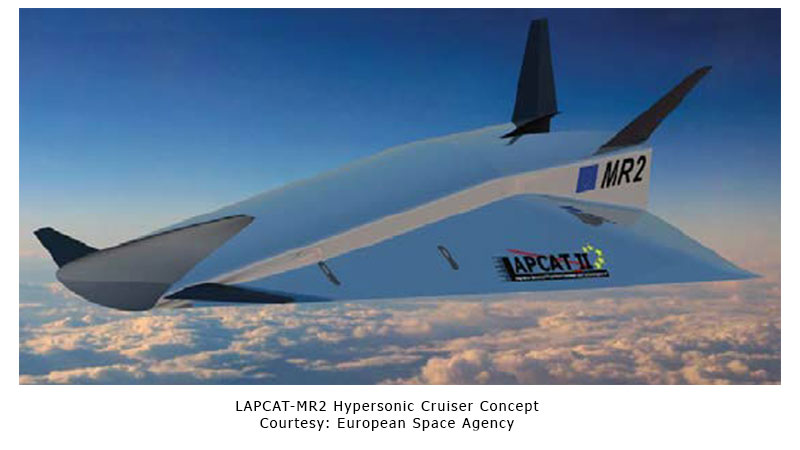 The STRATOFLY project has received funding from the European Union's Horizon 2020 research and innovation programme under grant agreement No 769246.
STRATOFLY studies the feasibility of high-speed passenger stratospheric flight. Technological, environmental and economic factors, that allow the sustainability of new air space's exploitation, are taken into account, drastically reducing transfer time, emissions and noise, and guaranteeing the required safety levels. In addition, STRATOFLY represents the first step towards future reusable launchers.
STRATOFLY main objectives
- To refine the design and the concept of operations of the LAPCAT-­‐II MR2.4, that has been selected as reference vehicle.
- To build up on the heritage of the past EU projects to reach the ambitious goal of TRL6 by 2035 for the vehicle concept.
- STRATOFLY hypersonic vehicle will fly at Mach number of 8 above 30 km of altitude, performing an antipodal civil passenger transport mission.
- The crucial technologies of STRATOFLY vehicle may represent a step forward to reach the goal of future reusable space transportation systems.
Description of STRATOFLY project
The stratosphere is the atmosphere layer higher than the breathable troposphere and its extension goes up to an altitude of 50 Km. The exploitation of this space could become necessary because the number of passengers transported by airplane could have a six-fold increase by 2050.
STRATOFLY research project aims:
- To drastically decrease the transfer time of long range civil flights
- To identify new high-speed (hypersonic) trajectories in unexploited air spaces (stratosphere)
- To decrease noise and emissions, evaluating the climate impact and guaranteeing at the same time required safety standards for passenger transport
- To evaluate the economic sustainability of the future operability of hypersonic vehicles
- To increase the maturity level of enabling technologies for future reusable launchers
The research topic is highly multidisciplinary and combines technological and operative issues. Crucial technological issues for the success of the hypersonic vehicle are the integration of innovative propulsion systems, unconventional structural configurations and systems for the thermal and energy management. Fundamental operative issues are the reduction of emissions, noise and the sustainability of unexplored trajectories, guaranteeing the safety levels necessary for passenger transport.
STRATOFLY thus includes non-technological issues that are of utmost importance for the future of civil passenger transport in the stratosphere: the life cycle costs estimation of the vehicle, the market analysis, human factors related to the public consensus, safety and airworthiness regulations. STRATOFLY project has a rational and comprehensive structure, consisting of two design spaces, Technology and Operational, mutually interacting one with the other.